Education Connection truly values and appreciates the collaboration of each district and launching school that we partner with. Thank you to district leadership, school administration, and teachers for trusting Education Connection for the privilege of volunteering with your students. These relationships have been an asset in growing and supporting all students to reach and maintain grade level reading in the greater Austin area.
We are incredibly grateful to the volunteers in our first partnering schools featured in this post, as well as all Education Connection volunteers with whom we've had the pleasure of working. You are the foundation and cornerstone of Education Connection, working together to serve our community. Thank you for honoring these schools and students with your time and talents!
Here's what some of our Partners and District Directors had to say about their experience working with the students:
Austin ISD – Barrington Elementary
From Carole Merten, Education Connection District Director for Austin ISD:
"It is so exciting to be starting our third year in the Austin Independent School District! Thank you to Gilma Sanchez, Principal at Barrington, for grasping the vision and opening the doors to her school. Thank you to all of the Literacy Partners who have given their time to love these students, invest in them, and encourage their success in school. We are so grateful for our volunteers. We also celebrate Barrington being the gateway for 10 additional schools within AISD who now partner with Education Connection and provide Literacy Partners to their students. WAY TO GO!!!!"

"…One girl's confidence has really grown in reading English! Another teacher heard me giving her praises and she joined in. The girl was so proud. It was beautiful!"
– Christine Potts, Literacy Partner at Barrington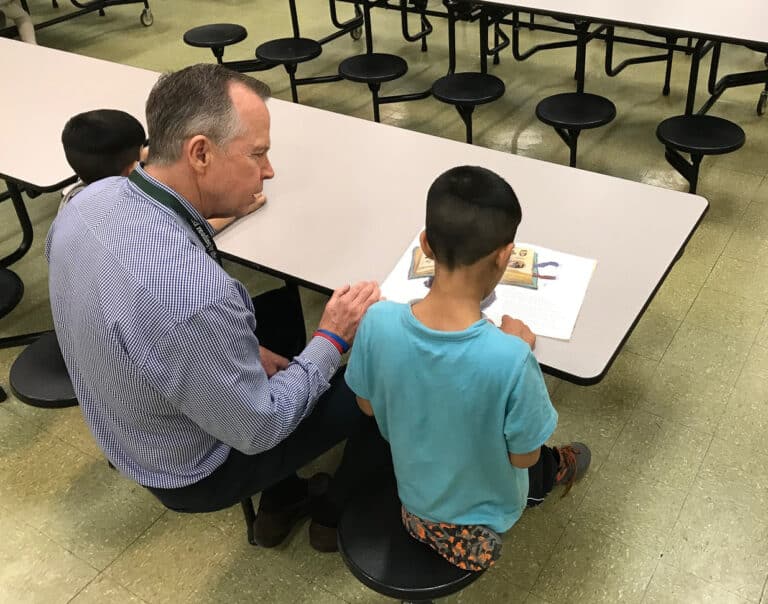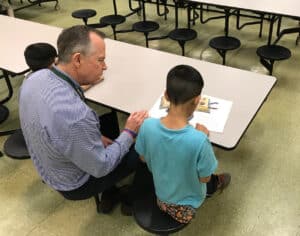 "…I love seeing all the kids light up when I come into their classroom. Overall it's been a very rewarding experience and I look forward to being with them each Tuesday."
– Harold Shuts, Literacy Partner at Barrington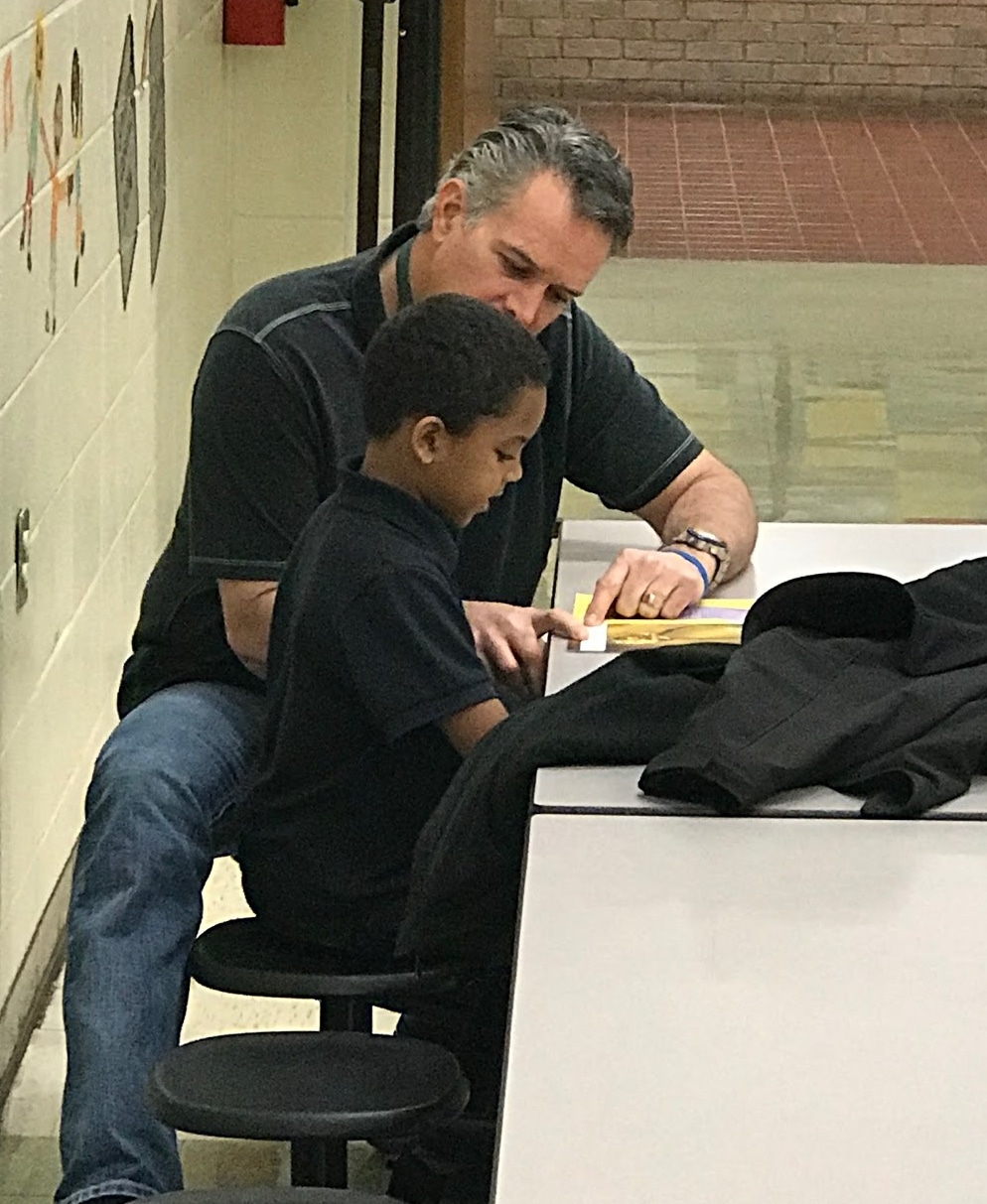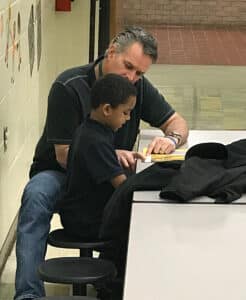 "I really enjoy seeing my students each week. They work hard in our sessions and it's so rewarding to see improvement. Their questions and comments about what will happen next shows me they are really engaged. The moments when I know we have connected are precious memories to me."
– Melanie Muenchinger, Literacy Partner at Barrington
Lake Travis ISD – Lakeway Elementary
From Margie Neuenschwander, Literacy Partner Coordinator at Lakeway:
"We are now in our third year with Literacy Partners at Lakeway Elementary, with 40 volunteers and 70 students being served. The key to our success has been the cooperation and teamwork of the administrative staff, teachers, and volunteers."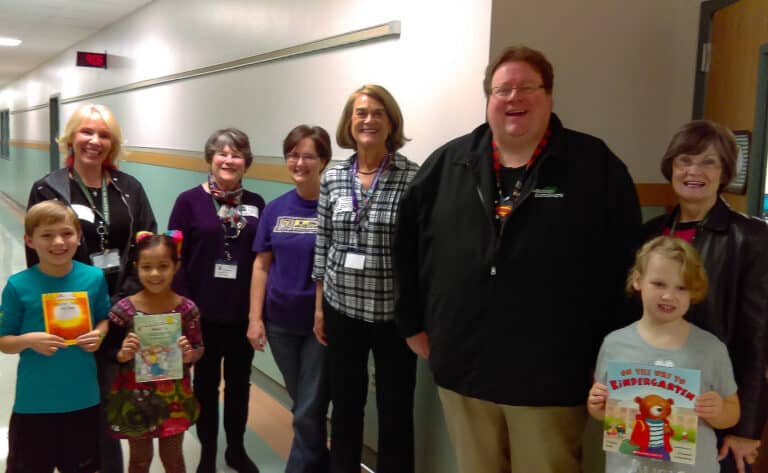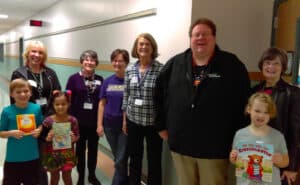 "This is my first year as a Literacy Partner and it has been a great experience. Whenever the boys see me waiting outside the door, the first young man runs in and brings out a book before the rest of the class enters the classroom."
– Pat Maniscalco, Literacy Partner at Lakeway
Leander ISD – Naumann Elementary
From Norma Roby, Literacy Partner Coordinator at Naumann:
"When the program began, I was teaching. I remember walking down the hallways and hearing the interaction between our students and Literacy Partners. I could feel the excitement. I wanted to do what the Literacy Partners were doing! Now that I am retired, I am a Literacy Partner, and I love it!! I still love walking the hallways and seeing the smiles on the faces of our partners and kiddos. This program has made such a difference in the lives of so many children."
From Tracey Mixon, School Coordinator at Naumann:
"We are soooo thankful for our Literacy Partners' time and effort spent at Naumann and loving our students like they do!! We have the best LPs!!!"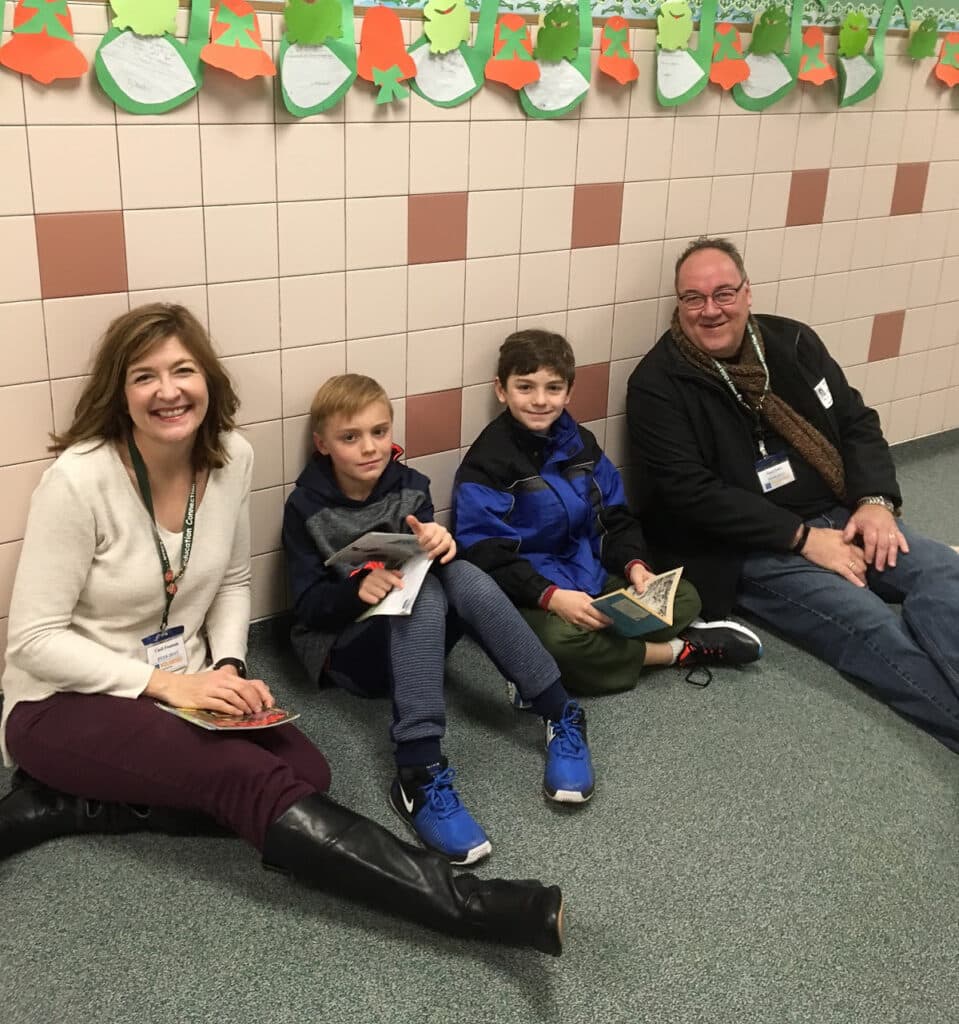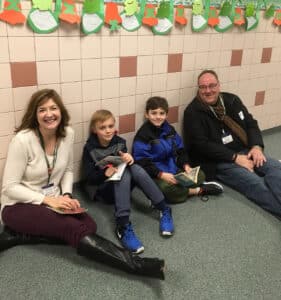 "Naumann Elementary is the best school I have ever experienced! The staff go above and beyond to make each student and parent feel welcome, and have the tools necessary to succeed. Reading with students has been such a blessing. It warms my heart when I see my reading buddies at other times, and they greet me with a smile. It feels like I am making a difference in their day, their learning, and hopefully their lives. I am also a caretaker for my adult brother Michael, who has cerebral palsy and autism. He joins our reading sessions and has been a great source of discussion and learning for the students. I love that we found the perfect volunteer opportunity that we can complete together!"
– Danyell Allen, Literacy Partner at Naumann
Liberty ISD – Liberty Hill Elementary
From Mary Lyn Jones, Education Connection District Director for Liberty Hill ISD:
"Thanks to Liberty Hill Elementary for being the first school in Liberty Hill ISD to initiate the Literacy Partners program with Education Connection. The number of students that have improved their reading level continues to increase each year. Shellie Brewer (Assistant Principal, LHE) and Jamie Etzkorn (LPC, LHE) continue to successfully coordinate the efforts at Liberty Hill Elementary. Thank you LHE!"
From Jamie Etzkorn, Literacy Partner Coordinator at Liberty Hill:
"One week, I missed one of my two days. The next week the one student that I was not sure was enjoying the program immediately wanted to know why I missed a day reading with them the week before. This student reaffirmed in me that no matter what a child appears to show on the outside to always look deeper; encourage, guide, and be there no matter what response the child is showing. I truly believe in this program and what it does for each child that it touches. Reading is the foundation for a child's learning and growth in the future. Helping plant and nurture this seed in their minds is an amazing experience to watch."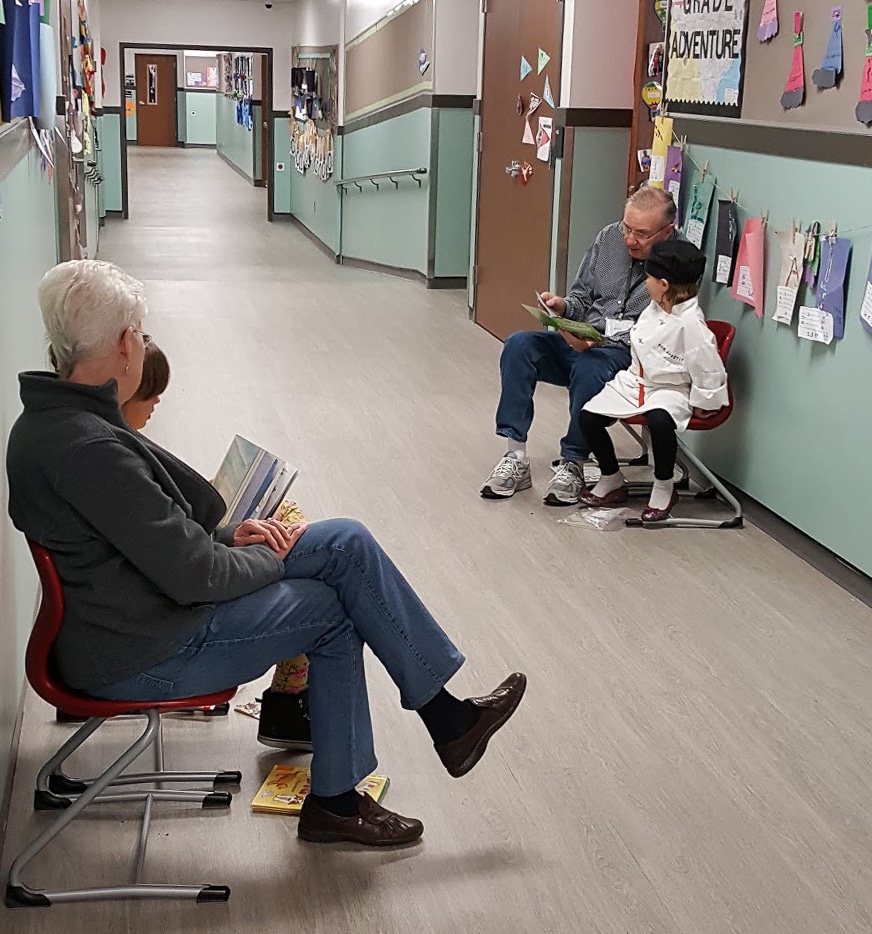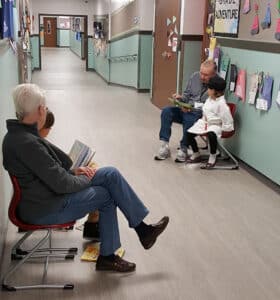 "I can already see improvement in my students' reading. In the very beginning, one of my students did not seem too thrilled that he was supposed to read with me from now on, but now he actually picks out the book he wants to read before I meet with him. It is nice to see them take an interest in the books and really start critically thinking about the material. It truly is a pleasure to work with them and help them progress in their reading level."
– Amanda Morales, Literacy Partner at Liberty Hill
Manor ISD – Blake Manor Elementary
From Amy Hagen, Education Connection District Director for Manor ISD:
"Thank you Manor ISD and school leadership at Blake Manor Elementary! Our partnership for the last three years has been a tremendous blessing for all involved. At BME we have a consistent core group of passionate volunteers reading with students. With the generosity of these volunteers, not only has reading improved for the students connected with Education Connection; a weekend food backpack program was also created to support students. Thank you for investing in our students!"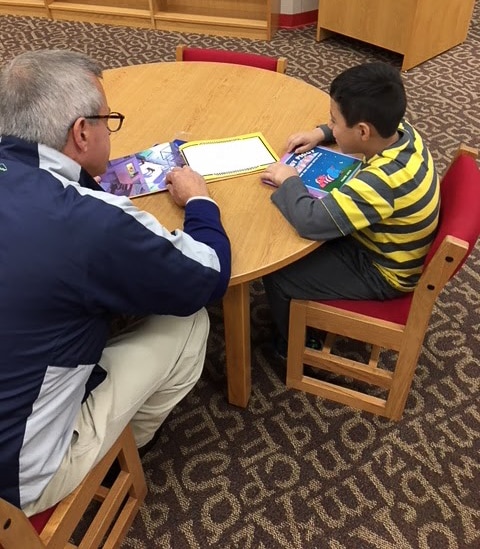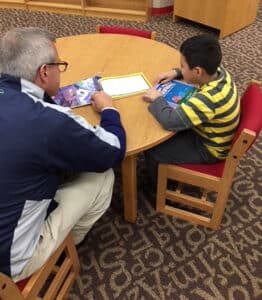 "I loved my experience last year, and this year is even better. My reading buddies get so excited when I arrive. The smile on their face is priceless. They look forward to seeing me and talking to me about their weekend. I love being a Literacy Partner."
– Maria Amezcua, Literacy Partner at Blake Manor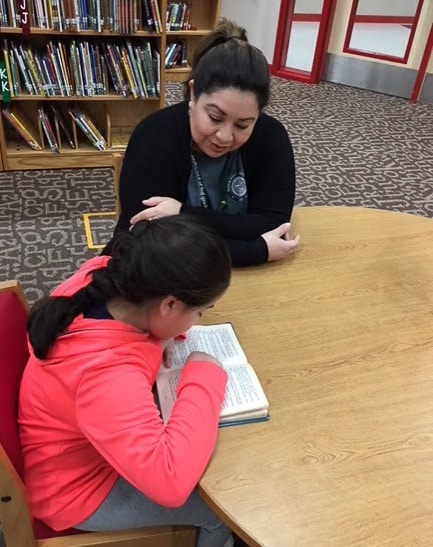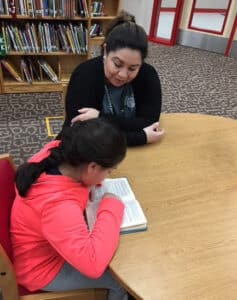 "Reading with the students at Blake Manor has been a rewarding experience. Wanting to see other children succeed in addition to my own, has always been a great desire of mine. In the past, my child was a part of the program and she has come a long way in her reading. I'm so grateful to Education Connection."
– Emily Brown, Parent and Literacy Partner at Blake Manor
Marble Falls ISD – Colt Elementary
From Patty Pulley, Literacy Partner Coordinator at Colt:
"My husband, Ken, and I began working with Education Connection at Colt Elementary in the Fall of 2017. As a "Reading Buddy", we were uncertain as to how effective we might be with these young people. Now that we have completed several months of working with our students, we are both surprised at their eagerness to improve their reading skills, but even more so, in their excitement to spend these brief moments with us each week. It is rewarding to see their smiling faces as we open the door to their classroom. I also would like to say thank you to Colt's principal, Erika O'Connor and her staff in their support and cooperation with working with us. Their positive attitude is evident in the faces of the teachers and students. It is our pleasure to play such a small role in the success of the school and its students, and we look forward to a rewarding 2018."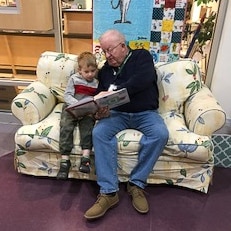 "My reading experience with my two students has been incredible! They are both very bright and love to read! They are eager to engage in the stories and they truly desire to pronounce and read the words in their books correctly!"
– Nichole Sims, Literacy Partner at Colt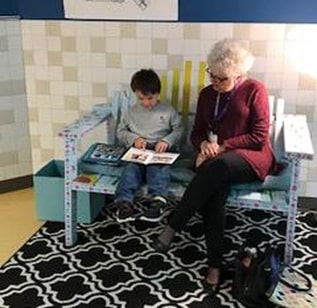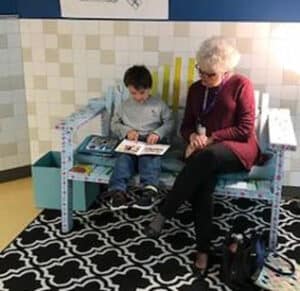 "I love reading at Colt. Everyone there is receptive and friendly. My teacher is very flexible with me. If I have a day conflict she works with me. I enjoy this program. It is a pleasure to get to do this."
– Janean Allen, Literacy Partner at Colt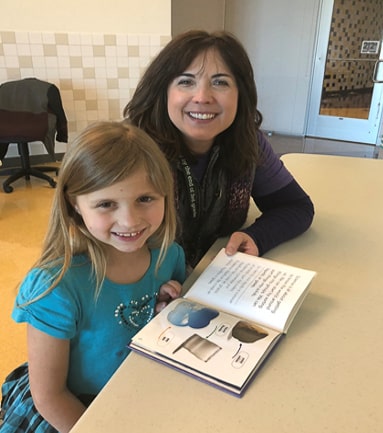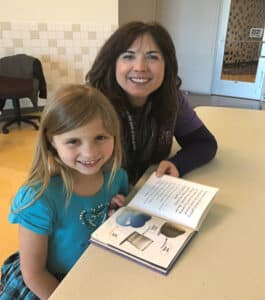 "I have really enjoyed my Literacy Partner experience at Colt Elementary this year. I always find the front office staff cheerful and welcoming, and they set a warm tone for a school that brims with smiling faces. I have also savored the developing relationships with the kids, one of whom was guarded and quite reluctant to talk at first. That is certainly not the case now. That child particularly likes picking out where we read. I know from a teacher's perspective how hard it is to have kids out of the class and I salute the program designers again and again for distilling many supportive experiences into one session. In closing, I would like to say the experience puts a smile on my face every single time and I feel very grateful for this opportunity to make a small contribution to a great school each week."
– Carolyn Crouchet, Literacy Partner at Colt
Pflugerville ISD – Caldwell Elementary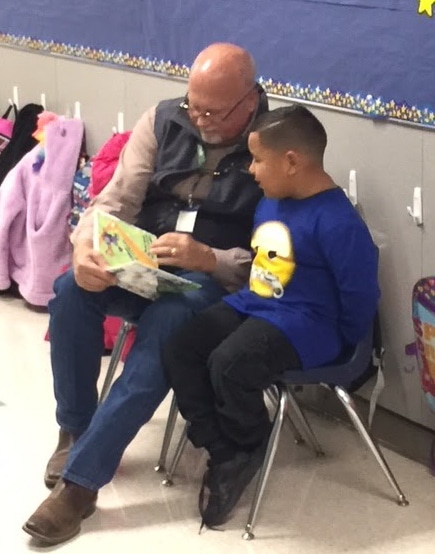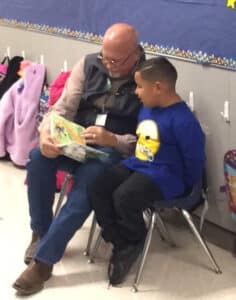 "Caldwell is such a friendly, happy school. The teachers are so willing to share their students with the volunteers. I look forward to being there each week."
– Evanell Shepperd, Literacy Partner at Caldwell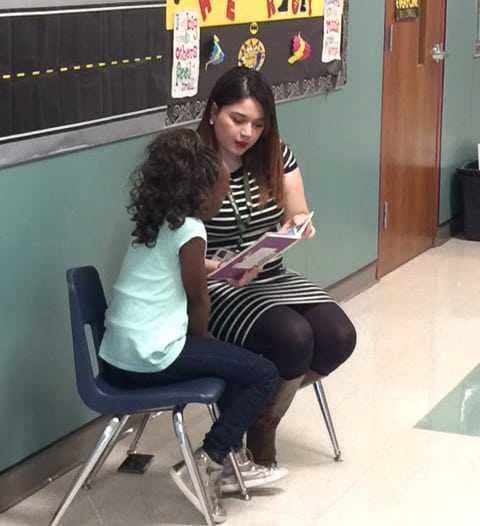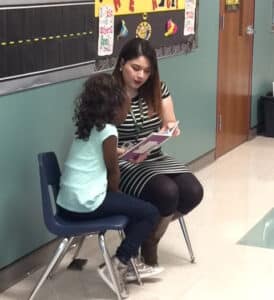 "It is wonderful to see the excitement in a child's eyes when they learn something new. When I first started, I didn't know what to expect, and I didn't know what the kids were going to be like. Once I got to know each student and see them smile at their little successes, whether it be pronouncing a word correctly or reading a whole sentence, and saw the smiles on their faces, it made me feel good about what I was doing here. I would encourage anyone with 30 minutes a week availability to volunteer: this experience has been rewarding and unforgettable!"
– Cristina Piccioni, Literacy Partner at Caldwell
Round Rock ISD – Voigt Elementary
From Cathy Laws, Education Connection District Director for Round Rock ISD:
"Many thanks to our Voigt volunteers who have stepped up as leaders in RRISD Education Connection and continue to read with students each week."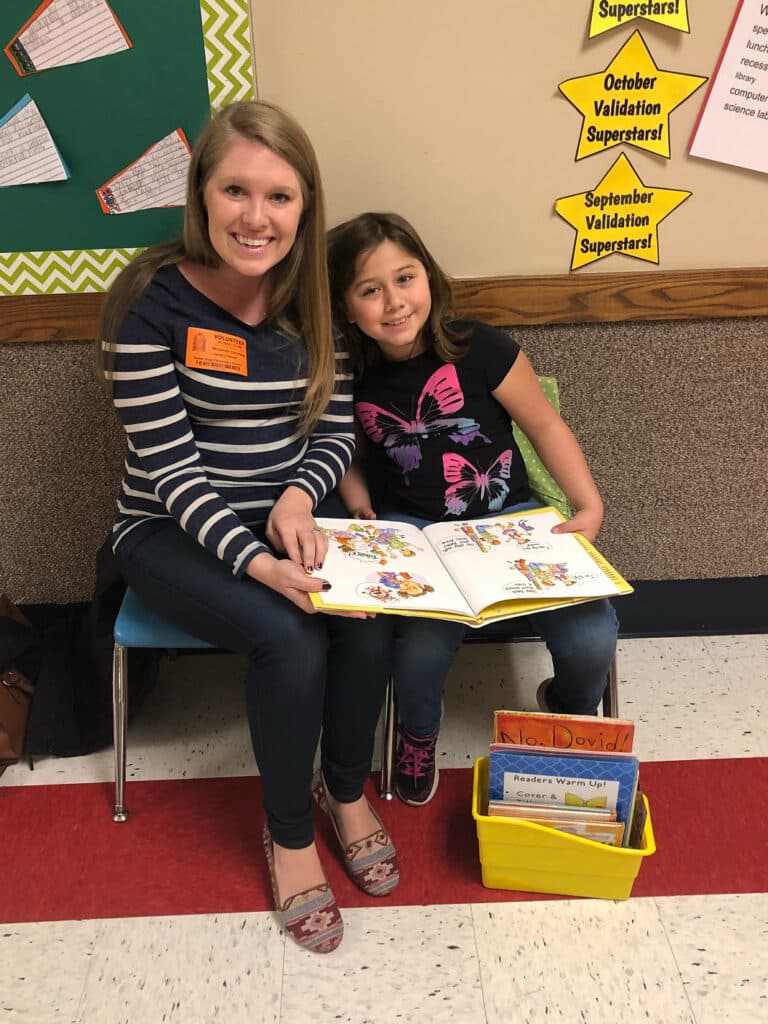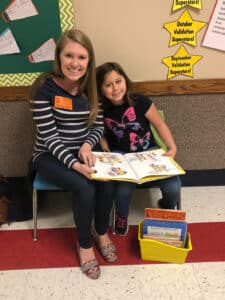 "This is my first time being a Literacy Partner and I absolutely love it! I usually only teach older students so working with 3rd graders is awesome. Their smiles just brighten my day. It's very rewarding to see their progress. Just a few minutes a week generates huge rewards!!"
– Tanja Wren, Literacy Partner at Voigt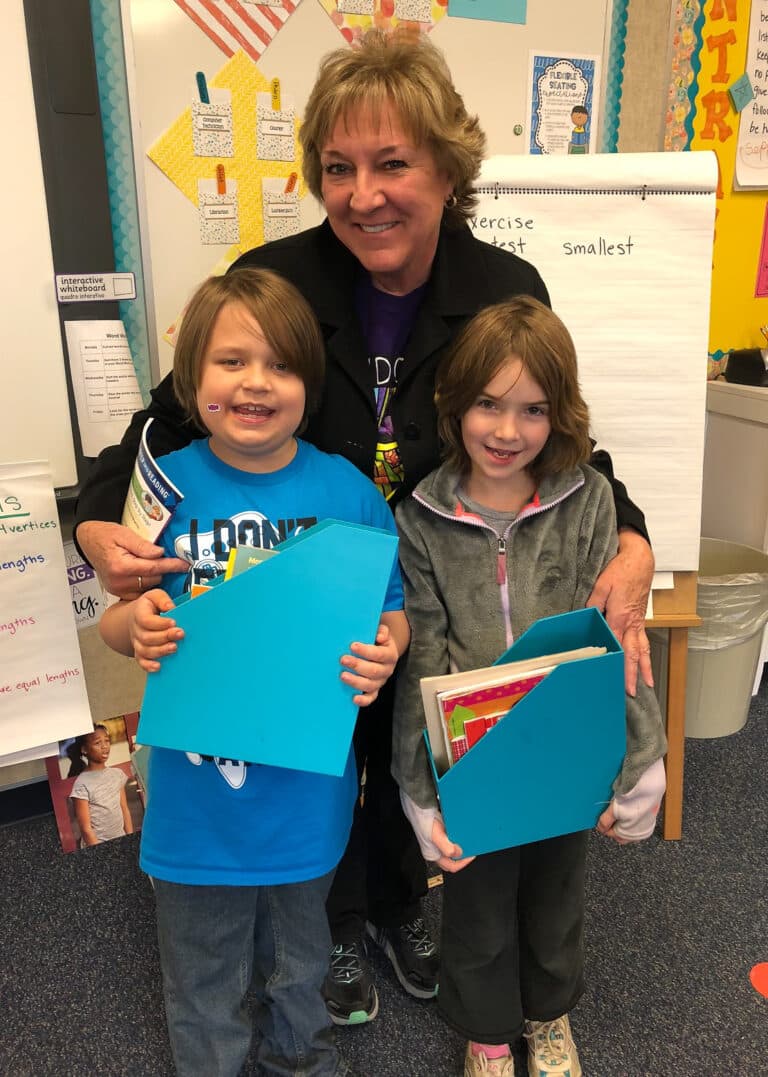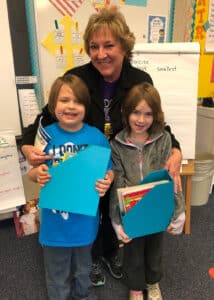 "I really enjoy reading at Voigt. My students are eager to read, and we try to read both from the books in their book box and a book that I bring. The students are hungry for adult one-on-one time and personal encouragement. The progress I see in my students from the first of the year until the end is huge! I have realized that so many children do not have books of their own. At the end of the year, I give each of them a book of their very own to take home. Reading with students has been a very fulfilling part of my own life!!"
– Cheryl White, Literacy Partner at Voigt
In closing, we want to emphasize that it's you, the partners and the schools working together to change children's lives, that make Education Connection what it is. It's been an honor to work with all of you. We can't wait to finish out this school year strong and do it all again in the 2018-19 school year!